VMC - Eurorack MIDI Modules
VMC stands for "Versatile / Voltagecontrolled / Variable - MIDI - Companion / Cruncher / Controller / ..." - choose what you want.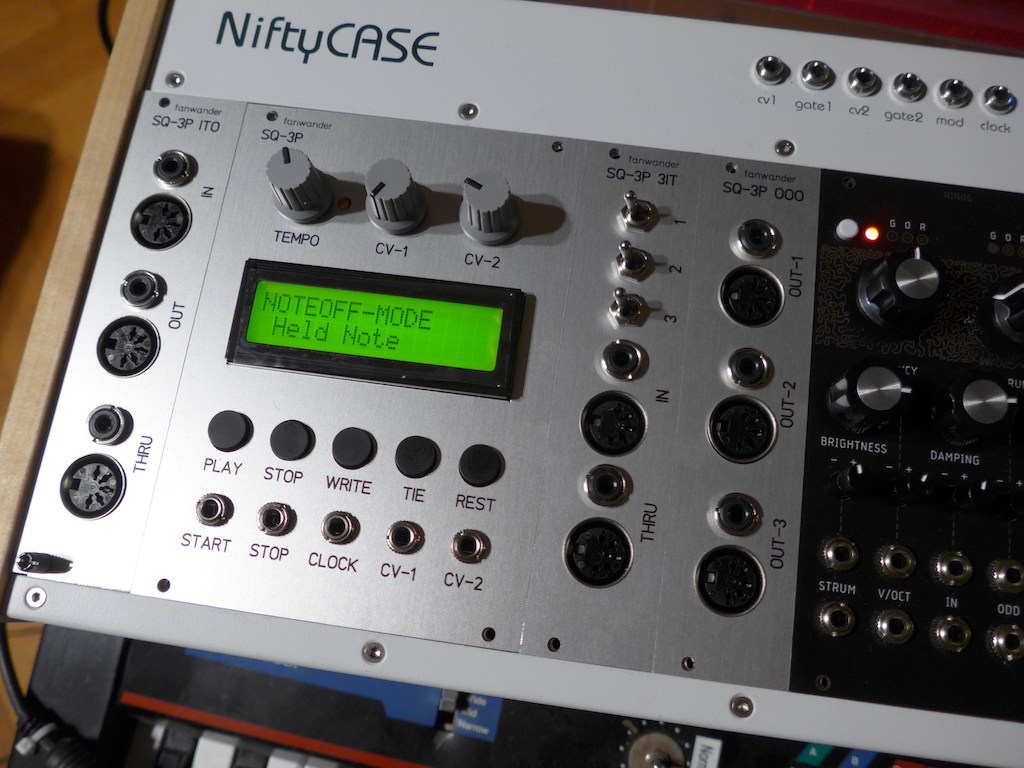 Picture of the pre-series module. From left to right: simple in/out/thru-module, VMC-1 main module, triple in/thru module, triple out module.
The
VMC-System
is a series of modules for Eurorack systems, which provide MIDI handling and (analog) clock handling in a broader sense. The modules are internally connected by an additional ribbon cable, which provides powersupply, MIDI busses and an analog clock bus.
Basically this bus can be combined with the Fluxus Modules by
http://soundcomplete.net/
if an adapter board is used.
The modules are distributed under the brand name
fanwander
.
At the moment a first production run has started with the following modules:
VMC-1

The VMC-1 is a generic module, which combines an ARDUINO NANO with a display, five buttons, three digital-inputs and two control voltage inputs with amount control.
This module may run various software.

At the moment (12/2021) I offer only the SQ-3P sequencer, but other programs like chord-trigger, voltage controlled MIDI-converts, or similar will follow soon.

You need at least one of the Input/Output modules listed below to connect the VMC-1 to youre MIDI-environment. For details see the VMC-1 users manual

Width: 18HP
Depth: 40mm

Powerconsumption:
if powered with +12V ~300mA, if powered from +5V ~250mA, less if used without LED backlight

for pricing see below
MIDI-ITO

A simple module, which provides MIDI input, output and thru. The module is connected with a bus cable to the VMC.

Width: 6HP
Depth: 40mm
MIDI-3IT

A module with MIDI input and thru; the input can be routed to three different busses. So it is possible to control up to three VMCs or similar modules from one MIDI source.

Width: 6HP
Depth: 40mm

The picture shows a prototype with some test wiring, the old name and simple mounting holes! The dimensions for the regular module are the same

MIDI-OOO

A module with three separate MIDI out sockets, for the three possible busses of this system.

Width: 6HP
Depth: 40mm
MIDI-ITOs

Same as MIDI-ITO, but only with 3.5mm sockets. Due to the mountingposition of the multipin connector it is deeper than the other modules.

Width: 2HP
Depth: 45mm
MIDI-INV

A simple passive module, which converts from the official pin assignement according to MIDI specification, which is used by Korg, MakeNoise and the VMC-System, to the non-standard pin assignement used by Arturia and Novation.

Width: 2HP
Depth: 25mm
The following modules are planned:
Euro-Pal: an euro rack version of the MIDI-Pal - with kind permission of Emilie Gillet (Merci beaucoup!).
Clock-Man: a master clock generator for MIDI-clock, DIN-sync and analog clock. Assumingly including a shuffle and swing function.
Break-Beat: a bar orientated start / stop / restart function. The idea is based on the Mungo-Enterprises Sync2 (I give big kudos to John Pillans!).
DIN-2-CLK: a DIN-sync to analog clock converter. This will be the "professional" followup to my DIN-Sync to analogue clock interface

All modules are available as assembled modules and as kits. Frontpanels and PCBs may be sold separately.
How to buy:
To order please use the
order page
. I don't accept orders on other communication channels (phone, messenger services, private or public messages in forums...). Orders are valid only if they are confirmed by me in written form (email or letter).
Price List:
| | | | | |
| --- | --- | --- | --- | --- |
| Module | Kit | Complete | Panel | PCB |
| VMC-1 | 130,-(*) | 190,-(*) | 35,- | 15,- |
| MIDI-ITO | 50,- | 80,- | 25,- | 10,- |
| MIDI-3IT | 50,- | 80,- | 25,- | 10,- |
| MIDI-OOO | 45,- | 70,- | 25,- | 10,- |
| MIDI-ITOs(**) | 45,- | 70,- | 15,- | 10,- |
| MIDI-INV(**) | 30,- | 60,- | 15,- | 08,- |
(*)Due to the increased prices for the Arduino we have to increase the price for the kit and the module temporarily by 10 Euros. If you already own an Arduino Nano, you can order the kit or complete module without the Arduino. The price will reduce to 110,- (kit) or 170,- (complete module). Please include this information in the comment on the order form.
(**)MIDI-ITOs and MIDI-INV are produced only on demand - for requests please send an
email
All prices in Euros without VAT (ohne Mehrwertsteuer), without shipping.
If the buyer is in the European Union and cannot provide a VAT-ID, I have to bill the VAT that is valid in the buyers country.
If the buyer is not in Germany but in the European Union and has a VAT-ID registered on his name, the prices are without VAT.
Buyers outside the European Union don't have to pay VAT. But keep in mind that you will have to pay your local taxes and customs fees.
Documents:
Various downloads
eagle_libraries.zip. I use some slightly modified libraries for eagle:

ArduinoNanoV30_lgdDrills.lbr: the original library uses small drills for the pins, which do not fit standard pinheaders -> I changed the diameter of the drills
PJ3410_sockets.lbr: all libraries for the PJ3410 I found had the milling for the pins at the wrong position -> I corrected this
lcd_dem16216.lbr: -> removed two mounting holes, that I do not want to have on the VMC-1 board; also I moved the origin marker of the display to the center
con-hirschmann_nognd.lbr: the MIDI-3IT and the MIDI-OOO use a version of the MAB5SV socket without ground pin -> I removed the ground pin
con-hirschmann_gnd2normal.lbr: the MIDI-ITO uses a version of the MAB5SV socket with ground pin not defined as power pin

download this zip-file and unpack it
copy the five files from the resulting folder to the libraries folder of your eagle installation
enter "use *" in the command line in eagle to reload the libraries.
Licenses
All modules are Open Hardware under the condition of creative commons license "cc by-nc-sa 4.0".
All software is Open Software under the condition of creative commons license "cc by-sa 4.0".
Software derived from Emilie Gillets MIDI-Pal will be under the condition of GPL.
Sourcecodes like files for the pcbs and the frontpanels will be published here and github.
The files were created with eagle 6.6.0 and can be handled in the free version of eagle.


Availability
PCBs and panels are usually in stock. If I run out of stock, it takes around two to three weeks to produce new pcbs or panels.
Kits usually are available. If I run out of parts it takes around one week to reorder. For pcbs and panels see above.
The 2HP modules MIDI-ITOs and MIDI-INV will be produced only on demand. Delivery time will be up to four weeks depending on the suppliers for the panels and pcbs.
Complete modules are stocked only to a certain number. Sometime they have to be assembled on demand. Usually it takes one week to complete an order (I have a 40hour/week dayjob too)
I ship once a week (usually on wednesday). I ship with assured and tracked parcels by DHL (this is german postal services - don't mismatch with DHL international). This will be delivered usually with your national postal services. For shipping rates please check https://www.dhl.de/en/privatkunden/pakete-versenden/weltweit-versenden/preise-international.html
For packaging I reuse material that came in. I think this is the most ecological way to avoid waste.
Suppliers
My suppliers are:
Terms and Conditions of Business - Returns & Warranty
Buyers from Germany please read the
"Geschäftsbedingungen"
.
Buyers from outside of Germany please read at least the abstract
"Terms of Services"
.