you should be redirected to the new page in two seconds
[ JX3P Index ] [ Pictures ] [ Tips-N-Tricks ] [ Modifications ] [ Schematics ] [ Links ] [ Troubshooting FAQ ]

We are here: [ home ] -> [ roland_jx3p ] -> [ modifications ] -> [ jx3p_transformer ]
<! H2>

Roland JX3P - Transformer Replacement<! /H2>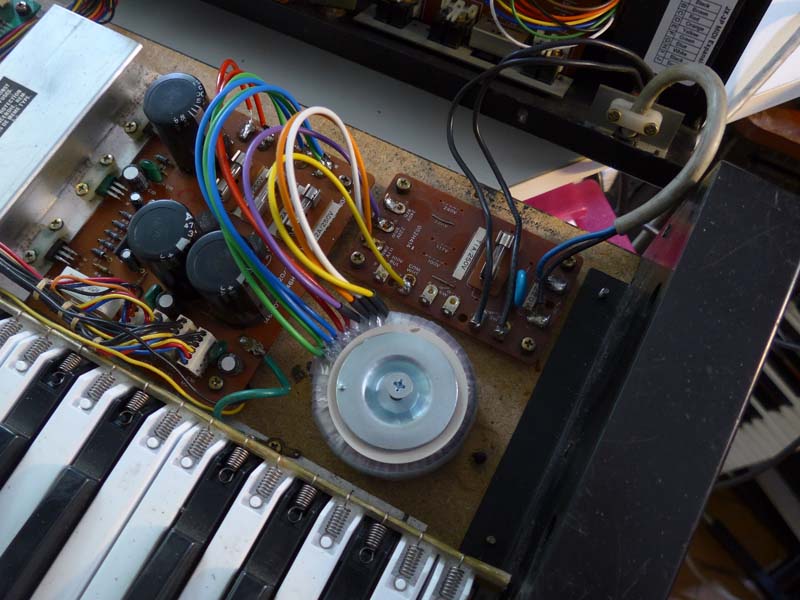 I got the request for a transformer replacement, to convert the JX-3P from a 117V version to a 230V version. So I ordered suitable torroid transformers at www.multi-circuit-boards.eu.
This is the transformer with the included mounting material: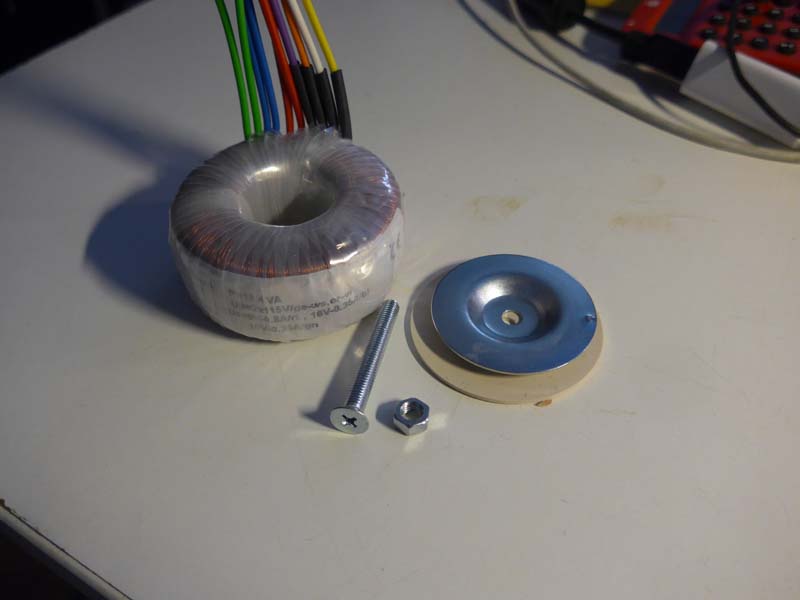 The transformer has an input for 2 x 115V AC primary; the secondary side provides 2 x 16V, 0.4A each and 1 x 9V, 0.8A. The transformer may be used for other roland synths like the Juno-series too (not tested). And also it is well suitable for eurorack power supplies.

I REJECT ALL LIABILITY FOR ALL CONSEQUENCES OF USING THIS DEVICE. I will send an instructional graphic how to wire the the transformer. I WILL NOT ANSWER ANY QUESTIONS ON HOW TO DO THIS. PERSONS WHO HAVE TO ASK QUESTIONS ABOUT THAT ARE APPEARENTLY NOT QUALIFIED TO UNDERTAKE THE MODIFICATION!

By sending an order for this transformer you agree with these conditions.
Price
Germany
European Union
(no VAT-ID)
European Union with VAT-ID or
outside the European Union
30,-€
24,30€ plus your local VAT
24,30€
These prices may change if our supplier changes its pricing.

Order process
To order a transformer please use the ORDER PAGE
I will confirm the receipt of the order by mail.
If the transformers are available from stock I will send an invoice. With this invoice the contract of sale is concluded.
If I run out of stock, it takes around three to four weeks to order new ones. I will inform you about this delay. I will send the invoice not before the stock is filled again
I ship once a week (usually on wednesday). I ship with assured and tracked parcels by DHL (this is german postal services - don't mismatch with DHL international). This will be delivered usually with your national postal services. At the moment the shipping rates are like this:

Shipping in Germany is 5,49 Euro (incl insurance and tracking).
Shipping within the EU is 10.49 Euro plus 2.50 Euro tracking and insurance.
Shipping outside the EU is at the moment 17.99 Euro plus 4.- Euro tracking and insurance.

These shipping costs may change, so please check the website of Deutsche Post).
For packaging I reuse material that came in. I think this is the most ecological way to avoid waste.

PLEASE DO NOT MAKE ANY PAYMENTS WITHOUT HAVING RECEIVED AN INVOICE. If you send money whithout having received an invoice I have to return the money to keep my book keeping clear.

For ordering please use the order page. At the moment the stock is sold out - a new order is on the way, but will take assumingly until mid of november 2023. Neverthelesse you may send an order. The valid purchase contract according to German law comes into effect only after my confirmation.

---
© florian anwander May 2021-Oct 2023